Democratic Women of Grayson County
Nominations for the Eleanor Roosevelt Award
Democratic Women of Grayson County (DWGC) have hosted biennial Eleanor Roosevelt Celebrations since 2006. At these events, Carol Shea, Ruby Jo Williams, Danna Bennett, Dorothy Perkins, Jackie Melancon, Kate Whitfield and Rhonda Marroquin have been honored as recipients of the Eleanor Roosevelt Award.
The most recent nomination period was
February 15, 2018 through March 31, 2018.
Recipient Criteria
DWGC seeks a recipient who:
1. has served Grayson County for ten years or more;
2. shares some of the finest qualities exemplified by Eleanor Roosevelt (brief bio below); and
3. has made diverse contributions to civic life in Grayson County
Board members submit nomination for the Eleanor Roosevelt Celebration. Nomination are submitted to the Awards Committee, appointed by the Board.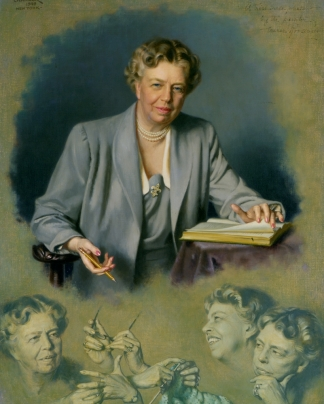 Eleanor Roosevelt: America's most influential First Lady blazed paths for women and led the battle for social justice everywhere
By Doris Kearns Goodwin
Excerpts from: http://www.time.com/time/time100/leaders/profile/eleanor.html
As the years have passed, Eleanor Roosevelt's influence and stature have continued to grow. Today she remains a powerful inspiration to leaders in both the civil rights and women's movements.
She gave a voice to people who did not have access to power. She was the first woman to speak in front of a national convention, to write a syndicated column, to earn money as a lecturer, to be a radio commentator and to hold regular press conferences.
She turned her energies to a variety of reformist organizations, joining a circle of post-suffrage feminists dedicated to the abolition of child labor, the establishment of a minimum wage and the passage of legislation to protect workers.
In 1938, while attending the Southern Conference for Human Welfare in Birmingham, Ala., she refused to abide by a segregation ordinance that required her to sit in the white section of the auditorium, apart from her black friends. The following year, she publicly resigned from the Daughters of the American Revolution after it barred the black singer Marian Anderson from its auditorium.
During World War II, Eleanor remained an uncompromising voice on civil rights, insisting that America could not fight racism abroad while tolerating it at home. Eleanor's positions on civil rights were far in advance of her time: 10 years before the Supreme Court rejected the "separate but equal" doctrine, Eleanor argued that equal facilities were not enough: "The basic fact of segregation, which warps and twists the lives of our Negro population, [is] itself discriminatory."
As First Lady, she held more than 300 press conferences that she cleverly restricted to women journalists, knowing that news organizations all over the country would be forced to hire their first female reporter in order to have access to the First Lady.
For her own part, she never let the intense criticism that she encountered silence her. "If I … worried about mudslinging, I would have been dead long ago."
Doris Kearns Goodwin is a Pulitzer prize-winning author, historian and political analyst.